Do you want to run the 2019 TSC NYC Marathon, and support Masa at the same time?
The TSC NYC Marathon is an extraordinary experience — every year, thousands of runners enter the lottery, hoping to experience running 26.2 miles through New York City's five boroughs.
There are three ways to run in the TSC NYC Marathon: get accepted via an incredibly competitive lottery process, qualify based on your running pace (no small feat for most mere mortals), and run to raise funds for a non-profit organization!
This year, Masa was fortunate to be selected as TSC NYC Marathon Community Partner, which means we have spots available for a few lucky runners to run the marathon while fundraising for Masa!
So, when is the marathon anyway?
It's Sunday, November 3rd, 2019 — plenty of time to train, and to fundraise!
What do I have to do?
If you run for Masa, you commit to fundraising a minimum of $2,500. This is a serious commitment, and potential runners should seriously consider whether they feel they can raise this amount given their networks.
What are the perks?
There are quite a few:
The funds you raise will support Masa's education and leadership development programs, which support more than 2,000 Mexican and Latino children, youth, and adults each year in emerging as vibrant learners and leaders. This is a critical moment to show support for and invest in immigrant communities.
Running the TCS NYC Marathon is, if we do say so ourselves, a magical experience! The opportunity to be part of a group of more than 50,000 people pushing themselves mentally and physically, with supportive crowds cheering you on from start to finish, is pretty special.
Masa will cover your marathon registration fee — which is up to $295 if you are not a member of the New York Road Runners, the organization that coordinates the TCS NYC Marathon.
Masa will support you in thinking about fundraising strategies and highlight your efforts on our social media and web site.
You'll be part of a small but mighty team: Masa will have 5 runners this year, and we're committed to creating opportunities to check in with each other and train together (if there is interest).
You'll have the Masa family cheering you on at Mile 20: The marathon route passes through Mott Haven, Masa's home base, and Masa families and volunteer will turn out in force to cheer on runners when they're running up Alexander Avenue to 138th Street in the Bronx. That's a critical moment in the race to have some extra motivation!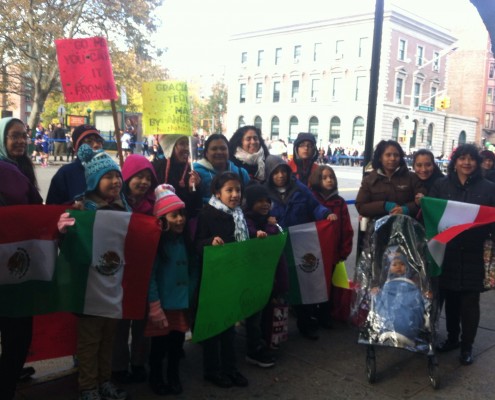 OK, I'm interested. What do I do?
E-mail us! We'll be in touch to discuss within one business day. Please note that there are a very limited number of spots available, and reaching out to express interest does not guarantee you'll be able to participate with Team Masa.